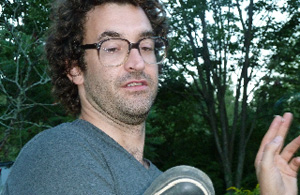 Lemieux, Vincent
Native Montrealer Vincent Lemieux is part of the Mutek festival team, co-programmer since 2000 and official MUTEK DJ since 2002. Production-wise, he's one half of Flabbergast with Guillaume Coutu-Dumont, one half of Brandy Snifter with Stephen Beaupré and co-founder of Musique Risquée, whose greatest hits album he is currently mixing.
Working at Montreal's Rotation record store in 2000 as the main buyer, Vincent Lemieux started to get recognition for establishing a minimal house and techno aesthetic in the city. Lemieux launched the HUB_musiques club night in early 2003. For 2 full years HUB was a reference for Montreal and its forward thinking artists, a meeting place and incubator for new sounds in micro house, minimal and experimental electronic music: Lemieux is also behind the long-running Tuesday nights at Salon Daomé, where he DJ's alongside world-class talent including Claude Von Stroke, Ricardo Villalobos, Luciano, Zip and Sammy D.
The Musique Risquée label was founded in 2003 by Vincent Lemieux, who still manages the label, Marc Leclair (aka Akufen), Scott Monteith (aka Deadbeat) and Stephen Beaupré. To date, the imprint has issued close to twenty singles, which include the likes of Akufen, Crackhaus (Scott Monteith + Stephen Beaupré), Atom TM, Philippe Cam, The Mole and Jichael Mackson.
› www.myspace.com/musiquerisquee
Appearances:
› CTM.11 › GET PERLONIZED
›
CTM.09
›
PASS THE FLAME